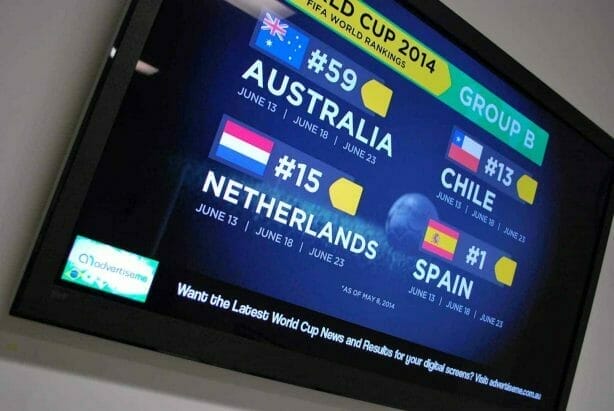 Advertise Me is now providing content such as the World Cup 2014 News and Results for all of our new and existing clients. If you want to keep your staff, visitors and customers engaged then this is the perfect content.
The first match starts on the 12 June 2014 between Brazil and Croatia, and we will be providing content up to the 17th July 2014.
WHAT IS THE COST?
The cost for this package starts from $40.00 per digital signage player.
WHAT DO YOU GET?
The World Cup News package features complete coverage of the event in 5 languages (English, Arabic, Portuguese, Japanese and Spanish), photos of the world's biggest stars, on-field photos, and news outside of the stadiums. As part of this package, it will also include results for each match (3 different languages English, Spanish and Portuguese) and the Group World Rankings by FIFA.
EXAMPLE CONTENT
Here's a few examples of what type of content you will receive.
Categories: Digital Advertising,Digital Signage,Advertise Me,digitalsignage,digitalsignagecontent,FIFA,Group World Rankings,screen,world cup,worldcup2014
Article Source: Advertise Me